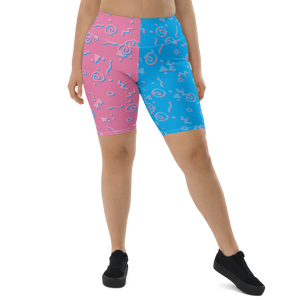 Jazzercise Aurora Shorts
Remember that scene from Sleeping Beauty when Aurora Jazzercised with an owl? Or did we just dream that? You'll feel like you're living once upon a dream in these magical Princess Aurora-inspired leggings! You'll never have to choose between pink and blue (goodness knows your fairies can't!) in these vibrant leggings!

These comfortable leggings are great for a dance through the woods with an owl or prince, Disneybounding, 80s costumes, or just sleeping in (until true love's kiss)!


Get yourself a pair of these high-waisted, flattering biker shorts to experience true comfort and style. The versatile shorts will look stunning with all kinds of outfits—be it active or streetwear!

• 82% polyester, 12% spandex
• Fabric weight: 7.37 oz/yd² (250 g/m²)
• Double-layered waistband with a pocket in the back for a phone and keys
• High-waisted fit
• Butt-lifting cut
• Flattering length that looks good on all body types
• Blank products in Mexico sourced from China
• Blank products in Europe sourced from China and Lithuania

Please note: contact with rough surfaces should be avoided since that can pull out the white fibers in the fabric, damaging the shorts.