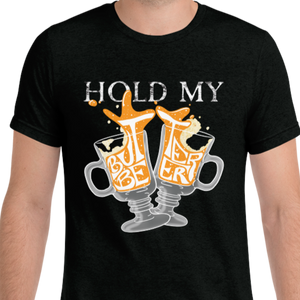 Hold My (Butter)Beer Tee
When anyone at Hogwarts does something dangerous, Gryffindor students be like...
Get ready to charm your fellow witches and wizards with our cleverly crafted tee. "Hold My Butterbeer" takes a playful twist on the classic "hold my beer" phrase, but this time, it's all about the magical world.
Embrace your inner wizarding humor and let this shirt do the talking. Perfect for those moments when you're about to embark on a daring magical feat or simply want to raise a laugh among your fellow magical beings.
If you're a fan of the wizarding world and have a penchant for clever wordplay, our "Hold My Butterbeer" T-Shirt is a magical must-have. Whether you're a fan of butterbeer, wand-waving, or just enjoy a good laugh, this tee is your ticket to a world of wizarding whimsy.
A super-soft, form-fitting, breathable t-shirt with a slightly lower neckline than a classic t-shirt. • 50% polyester, 25% cotton, 25% rayon • Pre-shrunk fabric • 40 singles • Slim fit • Ribbed crew neck with set-in sleeves